I'm back again, with another cool card in my collection. This little gem is the oldest card I have.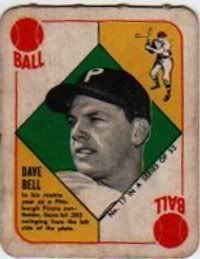 It's a 1951 Topps Red Back card of Dave "Gus" Bell. I bought it on eBay for $8.50. I've been trying to find one card from every year that Topps made cards, and this is where it all started. It's a really dinky card, which makes the transition to the jumbo '52s seem really weird.
The Bell family is famous for having 3 generations of major league players (Gus, Buddy, and David & Mike). The Boones (Ray, Bob, and Aaron and Bret) and the Hairstons (Sam, Johnny & Jerry, and Jerry Jr. & Scott) are the only other families that can say this.