I went through a phase where I collected pretty much every kind of card. Comic book cards, musician cards, football, basketball, you name it. I cut down to just baseball in the mid '90s, but I still have some of my old cards. The weird thing is that I got some of my coolest non-sports cards within the past year.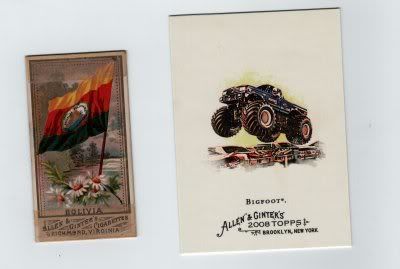 The card on the left is the newest addition to my collection, as well as my oldest card of any type. It's an 1886 Allen & Ginter "Flags of the Nations" (N9) card of Bolivia. I got it from dayf for winning a contest he held over at
A Pack A Day
. These cards were released in boxes of cigarettes.The card on the right is a standard-size card of Bigfoot, one of the coolest cards in 2008 A&G.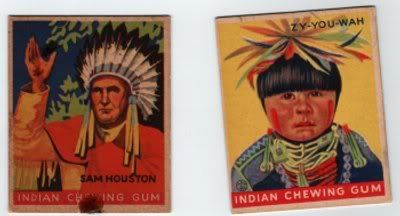 My best friend Josh gave me these two cards, which came from his grandmother. They're from the Indian Gum (R73) set released by the Goudey company sometime between 1933 and 1940. It's hard to believe that the gum used to be why kids would buy the cards. (Josh's mom said that she bought a pack of baseball cards for the gum, and she got a Mickey Mantle card. She doesn't know what she did with it.)
Lastly, we have another card Josh gave me. This one was cut form the back of a box of Little Debbie snack cakes. I've been on a huge They Might Be Giants kick lately, so I had to laugh when I found this. I totally forgot I had it, but I found it when I was looking for those Indian cards. Rather than ramble on about good Mr. Polk, I think I'll let the twin quasars of rock talk about him.