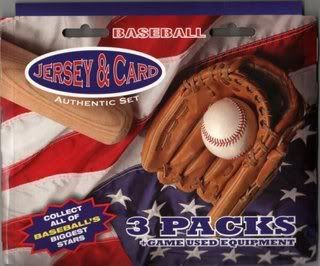 I found this puppy at Walmart today. This is the first thing I've bought that has a guaranteed game-used card in it. [EDIT: It's actually the second thing. I forgot Topps started putting GU cards in boxes of '08 Series 2.] I know most of them aren't worth much and you don't know if the person on the card actually wore/used what's embedded in the card, but I still think they're cool. I don't have too many. Let's see what's inside, shall we?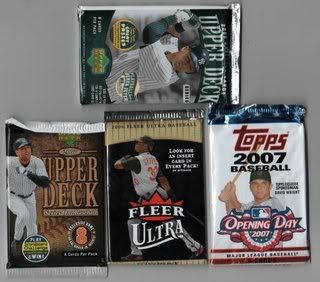 The package advertised 3 packs of cards, but there were 4 in the pack. Nice! It's the typical assortment of new junk wax you'll find in any of the Legends repacks. Here's what I got:
2007 Topps Opening Day
Brad Penny
Delmon Young
Scott Kazimir
Ryan Howard
Marcus Giles
2007 Upper Deck Series 1
Casey Blake
Kenny Lofton
Ryan Dempster
Khalil Greene
David Ross
Akinori Otsuka
Kenny Rogers
Huston Street
2006 Fleer Ultra
Angel Berroa
Ryan Zimmerman
Yadier Molina
Mark Prior Strikeout Kings
Michael Young Gold Medallion
2006 Upper Deck Series 2
Khalil Greene checklist
Antonio Alfonseca
Yusmeiro Petit
Aaron Rakers
Wade Miller
Rick White
Derek Jeter Play Ball!
Paul Bako
And now, the moment you've all been waiting for, the GAME-USED CARD!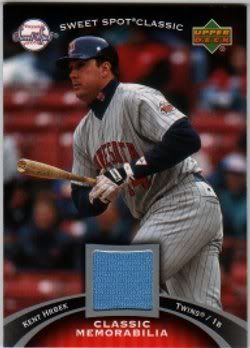 Hrbie! All right! Gotta love that powder blue.
Personally, I'd probably buy another one of these, but I wouldn't make it a habit. That's what A&G is for.