This isn't about the awesome blog, although it is inspired by them. (If you've never been there,
check them out
.) I was trying to find cards to send to them yesterday, and I found what may be the card in my collection (doubles, actually) that's in the worst condition. Ladies and gentlemen, I present to you...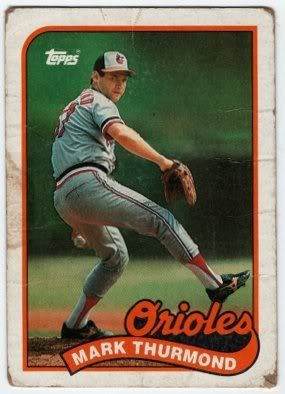 1989 Topps #152 Mark Thurmond. I'm guessing this is one of the cards that I had when I started collecting back in '89. It's been through hell, as you can see.
Do any of you guys have cards in worse condition than this? I'd like to see 'em. If you've got a blog, do a post about it. If you don't, upload a pic of your card and put the link in the comments for this post.