The fine folks at
Dinged Corners
sent me a bunch of cards, which I received in the mail yesterday. Most of them were Pirates, but there were also some minor league cards, as well as some oddballs. Here are my top 5 favorite cards I received:
5.) 2005 Fleer #51 Jack Wilson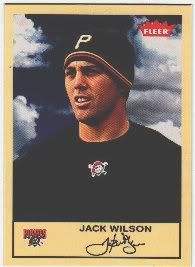 Give him a conductor's hat instead of the toboggan he has on, and he'd look like Stanley Spadowski.
4.) 2008 Upper Deck Baseball Heroes #199 Ken Griffey Jr./Roberto Clemente/Vlad Guerrero/ Joe DiMaggio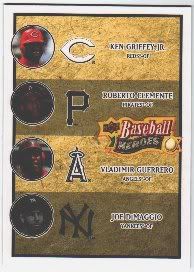 The scan looks like crap, but it's actually a pretty nice card. Cards of Clemente always make me wonder how good the Dodgers would've been if they hadn't given him up in the
Rule V Draft
.
3.) 2007 Upper Deck Masterpieces #61 Jason Bay
These cards are beautiful. If I ever see packs of these for sale, I might get one.
2.) 1989 Star #25 Lonnie Maclin
This dude has some mad hops, doesn't he? The only thing that would make this card better is if it was of
Lonnie Mack
.
1.) 2004 Topps Garbage Pail Kids #23b Explosive Xavier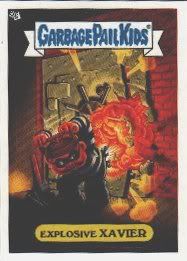 All RIGHT!!! These things are great. I'm glad Topps is still making them, even in this age of political correctness we're in. I'm gonna look for an unopened box of these online. That would be a hell of a video for A Pack A Day, right?
As great as those cards are, it wasn't the best thing Patricia and Lucy sent me.
This is.
When Lucy becomes a famous artist, it's gonna be worth a crapload of money.