Like I mentioned earlier, I've been trying to learn how to do Photoshop by making customized cards for my friends. I also threw together a few just because I came up with a funny idea. For example, I came up with two cards of athletes who are better known for the movies they starred in.
I could explain my process for doing all these or why I picked the cards I did, but never mind that shit. Here comes Mongo!
1962 Topps football has gotta be one of my favorite card designs of all time. I wish I coulda found a better main picture, but the little inset one is PERFECT.
I have no complaints about this next card.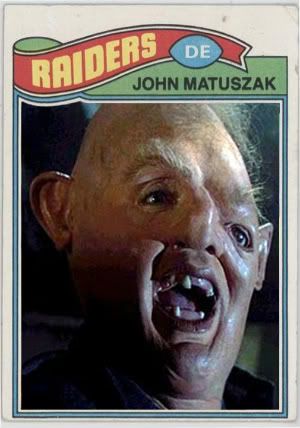 This baby turned out perfect. It's based on his 1977 Topps football card. The picture is framed almost perfectly, and I even got almost all of the white border around the picture to stay put.