Man, look at this place. If it was a physical room, there would be dust and cobwebs all over the place. What happened? Well, a bunch of things.
I guess the biggest change is the fact that I don't live in West Virginia any more. That's right! You heard right! My blog posts now have 100% more Ohio in them! I moved to Dayton about 5 months ago. I've started attending college, which is something I've wanted to do for a while. I'm still working at a Wendy's, though. It's not bad so far.
Dayton's a pretty big baseball town. It's home to the
Dragons
, a Class A affiliate of the Reds. It's also home to Mike Schmidt and Roger Clemens. The worst part I see is that there aren't any baseball card shops within walking distance. I can take the bus to Walmart, and that's about it.
Before I moved here, I took all my baseball cards back to my mom's house. I have a few I've found since I moved here, but not too many. I keep my eyes peeled everywhere I go, though. I've also started using Photoshop and making my own customized cards as the whim strikes. I've made a bunch for my friends, and a few because I got a funny idea for one. Here's my card: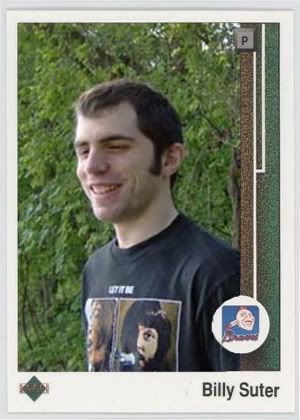 I picked 1989 Upper Deck partly because I started collecting that year. I'll post more of these later. Until then, keep your stick on the ice!